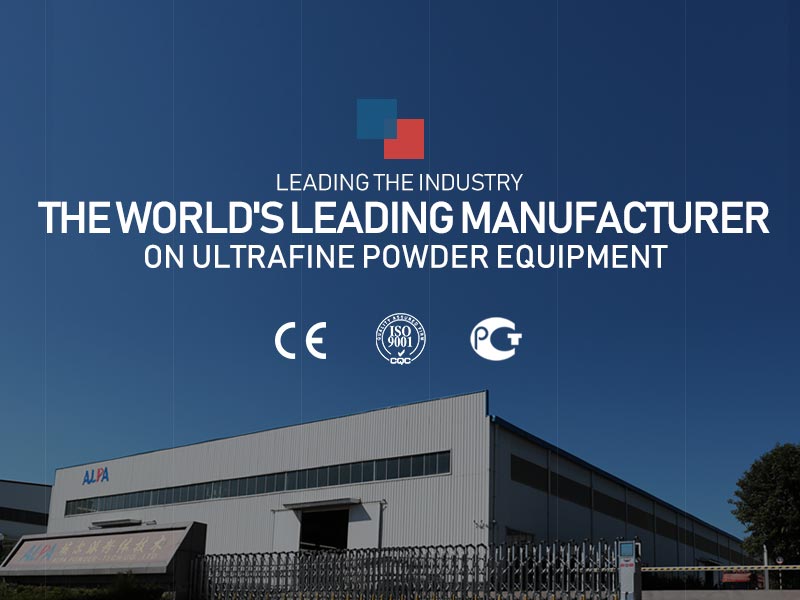 Our hot products
With 18 years of focus on ultra-fine ultra-pure crushing and classifying research, powder shape control,
powder surface modification, and system integration of powder engineering equipment,and provide customers with complete solutions.
Why choose us ?
Founded in 2000, ALPA has independently developed and produced air jet mill,air classifiers and various types of mechanical pulverizers, as well as breakthroughs in particle technology such as particle shaping, coating and modification, breaking foreign technical barriers and filling Chinese industries blank.
Who chose us ?
37 companies listed in 500 international top-class ones , 89 companies listed in 500 Chinese top -class ones , 169 national level key laboratories and other customers are more than 3000,is a silent compliment to us.
Customer's feedback
We are a new energy listed company in India. We have branch factories in India, have been using ALPA's ultra-fine grinding equipment since the company started to reach a market value of nearly 30 billion. The equipment is stable and has high production capacity.
We are a well-known mineral enterprise in South Africa. We invested in heavy calcium carbonate grinding project, wanted to look for a superfine grinding equipment with low investment cost, quick effect, low operating cost, guaranteed output, fast service and high quality. After the inspection, we believed that ALPA had rich experience in superfine grinding of heavy calcium carbonate. We cooperated with ALPA to purchase four sets of superfine grinding equipment at one time, and they are running well.
We are the largest paracetamol manufacturing company in Malaysia. We have many ultra-fine grinding equipments, but the capacity, granularity, stability, and related services have not been able to meet our demanding requirements. When we expanding production capacity, we believe that ALPA's research and development ability with high product precision, fast service and let us save energy and worry.
We are the largest and well-known  colla corii asini enterprise in Pakistan. In the new The donkey milk powder grinding project, we encountered problems such as sticky materials and light weight after the materials were heat. ALPA passed detailed investigation and experiment. Optimize the structure of the equipment, finally solved the problem of sticky and light weight when the milk is ultra-finely pulverized, so that our new project can be delivered on schedule, thank you very much.
We are a large steel manufacturing enterprise in Korea. During the production process, produced large amount of industrial solid waste steel slag. Under the current pressure of environmental protection, it has become a difficult problem to restrict the sustainable development of enterprises. Efficient integrated processing solutions, ALPA provides us with the most advanced ultra-fine steel slag grinding solutions in Korea: including raw material conveying, ultra-fine grinding, finished product conveying, coating, turnkey engineering etc. Significant contributions have been made in energy saving, emission reduction and creating greater economic benefits.
We are a well-known enterprise in Vietnam.We have used ultra-fine grinding equipment of other Chinese manufacturers and have not been able to meet our quality requirements. During the expansion project, through the inspection, we believed that ALPA ultrafine grinding equipment can achieve the processing technology, grinding fineness, productivity and stability. Three sets of high standard ultrafine have been provided by ALPA. Now we have become the first-tier supplier of Tsingtao Beer, thanks to the contribution behind ALPA.
We are a well-known high-tech company in Germany. We have been using the classifier equipment of other Chinese manufacturers. We can't meet the requirements of classification accuracy and efficiency. When expanding the zinc oxide powder project, we believe that ALPA has experience in design and product quality, they can meet our requirements. We purchased two sets of ALPA Jet Mill production lines, which reduce the cost and improve the efficiency.
We are a wholly-owned enterprise from Belgium. We are a well-known brand manufacturer of bread, cakes and cakes in the world. We have been using ultra-fine grinding equipment imported from Germany. In order to meet the needs of localized service, in the expansion of white sugar project, we believe that ALPA's superfine grinding equipment can achieve the quality in the processing technology, grinding fineness, productivity and stability. After the project is launched, the operation has been very stable.
In the University Rankings, our School of Materials Science ranks 1th in Brazil. We have a number of independent advanced state-level laboratories, a large number of imported experimental equipment, and always require a small footprint, high grinding and classification accuracy, high degree of automation. At same time achieve impact mill, jet mill, classifying of multiple functions. After many inspections of the factory and experimental verification, we believe that ALPA can meet our demanding requirements in terms of design experience and product quality, making our new materials research even more powerful.
Learn about ALPA
ALPA,The Chinese first ultra-fine powder solution provider with international competitiveness.
News
Based on our own development, whether it is ALPA news, industry hotspots, customer sites or technological innovations, we will present them to you in the first time.
On the 9th April, POWTECH 2019 International Powder Machining Equipment and Instruments Exhibition was officially launched in Nuremberg, Germany. With 823 exhibitors from 35 countries bringing together the Nuremberg Exhibition Center.
The wheel of time, Has left its prominent [...]

Let's meet and talk!

Panoramic view
Lead you to enjoy a real, attractive ALPA.

Solution
In the fields of medicine, food, chemicals, minerals, new materials, new energy, solid waste, etc.,provide the globally competitive products and advanced "one-stop" solutions for powder material manufacturers.