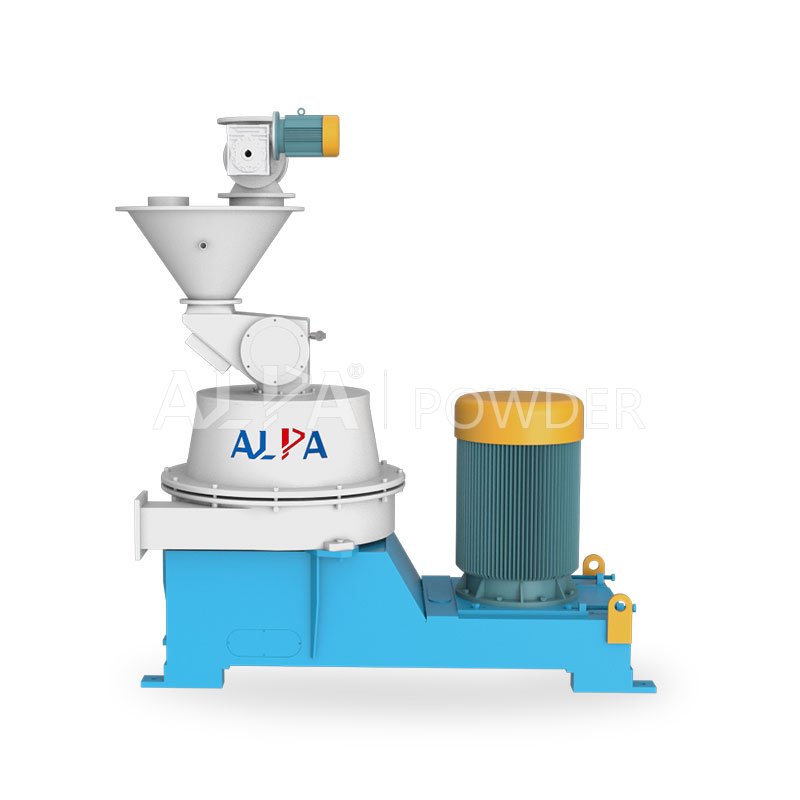 RTM Turbo Mill

Especially suitable for the dispersion and reduction of agglomerated materials, such as: light calcium, kaolin, aluminum hydroxide, magnesium oxide, and ultrafine grinding of heat sensitive materials such as polyvinyl alcohol, PVC, PE, cellulose. Widely used in non-metallic minerals, chemicals, fuel, feed, food and other industries.
Available D50:1~250μm
Conic rotor and stator are installed, product fineness and output can be controlled by adjusting the gap between the rotor and the stator.
The rotor and the stator are made of special wear-resistant steel and thus have long service life.
The linear speed of grinding rotor can be up to 130m/s, high grinding effect.
Large air volume and low grinding temperature, suitable for sensitization of heat sensitive and fibrous materials, uniform product size.
Powerful eddy current flow field, material is grinded instantly, material retention time in the chamber is short, no temperature rise.
Adjustable the gap between grinding rotor and ring gear, to achieve different grinding force.
Suitable for depolymerizing nano and micron material.
Alloy material rotor, high-speed dynamic balance, up to 6 layers of wear-resistant powder plate, guarantees excellent grinding effect.
Compact structure and small occupation. easy to disassemble and clean
Lower installation power, wide application, high cost-performance.
Grinding is in closed system, low dust and noise, clean and environmentally friendly production process.
PLC control system, easy operation.
Multi-purpose machine, can realize coating and dispersing integration through external hot air source, full coating, temperature controllable, free from environmental influence, good coating effect.
Can be used in series with multi-stage classifiers to produce products with multiple sizes at one time.
Explosion-proof design can be selected to meet the requirements of ultra-fine grinding processing of flammable and explosive oxide materials.
RTM Turbo Mill
Working Principle
The material is uniformly fed into the grinding zone by feeding system and strongly impacted by the high-speed rotating grinding disc. The grinding rotor is composed  of a multi-layer grinding disc and a plurality of grinding blades, the material is subjected to various grinding forces such as shearing, collision, friction etc and finished grinding. The qualified materials are collected into the collection zone with the ascending airflow, the coarse materials are returned to the grinding zone for secondary grinding.
RTM Turbo Mill
Technical Parameters
| Parameters/specifications | Rotor Diameter(mm) | Power (kw) | Rotate Speed(Max r/min) | Maximal Air Volume(m3/h) | Fineness(um) | Output(kg/h) |
| --- | --- | --- | --- | --- | --- | --- |
| RTM-300H | 300 | 18.5~22 | 7550 | 1600 | 5~250 | 30~800 |
| RTM-500H | 500 | 45 | 4700 | 2400 | 5~250 | 80~2000 |
| RTM-750V | 750 | 55~75 | 3000 | 3600 | 5~250 | 100~3000 |
| RTM-1000V | 1000 | 90~110 | 2250 | 4800 | 5~250 | 200~4500 |
| RTM-1250V | 1250 | 110~132 | 1800 | 6000 | 5~250 | 300~6000 |
Note: The production capacity is closely related to the particle size, specific gravity, hardness, moisture and other indicators of the raw materials. The above is only for selection reference.

"

I don't know how to choose the best for me."
IT DOESN'T MATTER
LET US HELP YOU!
The raw material and the particle size, output, and application industry of the finished product determine the choice of equipment and process. As an expert, you will not be unfamiliar with this.If you have any questions, don't worry, please leave us a message, or "Live Chat" in the lower corner of this page, or contact us via our phone or email.
ANY QUESTIONS OR DEMANDS
PLEASE CONTACT US RIGHT NOW!
Learn More & Get Quotation
Please tell us your needs.
Our engineer will send you solutions and quotes for free.