CSM-H Series Air Classifier Mill
Adopting German technology, high-precision machinery mill, continuous technological innovation and upgrading, suitable for 50-5000 mesh (300μm-2.5μm).
Features:

Horizontal classifying structure, refinement, the combination of traditional ACM+ horizontal classifiers makes it possible to mechanically grinding and produce ultra-fine powder, exert the maximum efficiency of mechanical machine, which can replace the fineness achieved by some jet mill.

Applicable:

widely used in non-metallic minerals (Mohs hardness less than 5), chemical, inorganic salts, pharmaceuticals, food, pigments, dyes, pesticides, battery materials, minerals, refractory materials and other industries.
The material is evenly fed into the grinding chamber by the feeding system, strongly impacted by the high-speed rotating grinding disc. At the same time, it is subjected to centrifugal force and collides with the grinding ring gear, and is subjected to various comprehensive forces such as shearing, friction and collision to finished grinding. The grinded material moves to the classifying zone with the airflow. The classifier is adjusted by frequency conversion, separates the coarse and fine materials, the product that meet the fineness requirement enters the cyclone collector and the dust collector with the airflow, and the coarse powders return to the classifying zone, secondary grinding.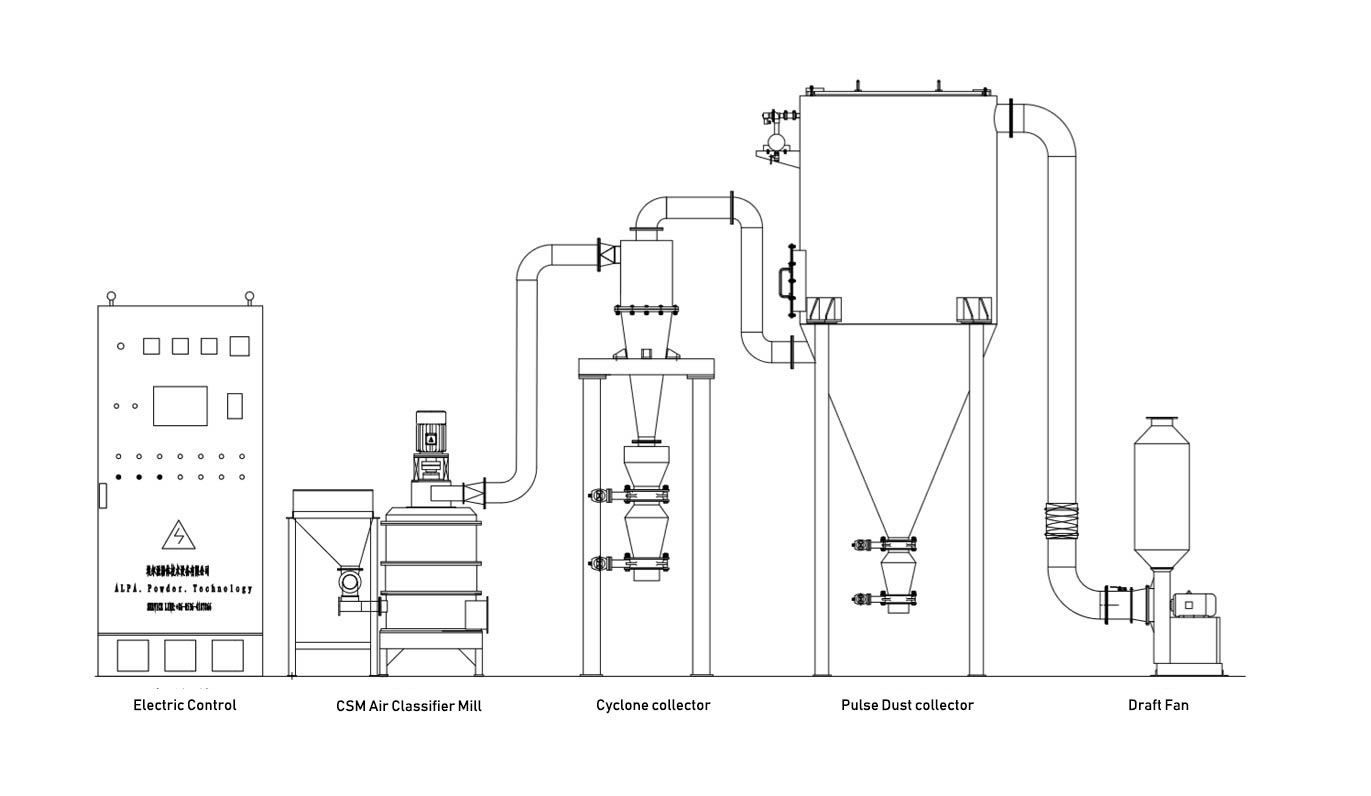 Parameter
CSM-280H
CSM-400H
CSM-510H
CSM-760H
CSM-1100H
CSM-1250H
Power (kw)
Grinding Disc
7.5
18.5
30
45~55
75~90
132
Classifier Impeller
4
4
11~15
15
22
30
Feeder
0.55~1.1
Rotate Speed(r/min)
Grinding Disc
7500
5250
3350
2625
2100
1700
Classifier Impeller
1000~8500
800~6000
600~4000
500~3000
400~2250
300~2000
Feeder
20~100
Max Air Flow(m3/h)
500
1200
3000
4800
9000
12000
Product Size(um)
5~300
10~300
Production Capacity(kg/h)
2~120
15~600
25~1000
30~1500
60~2000
100~3000
Note: The production capacity is closely related to the particle size, specific gravity, hardness, moisture and other indicators of the raw materials. The above is only for selection reference.
2019-01-28T14:34:04+08:00
2019-01-28T14:34:16+08:00

Learn More & Get Quotation
Submit your request here and our engineers will contact with you as soon as possible.
Or email us