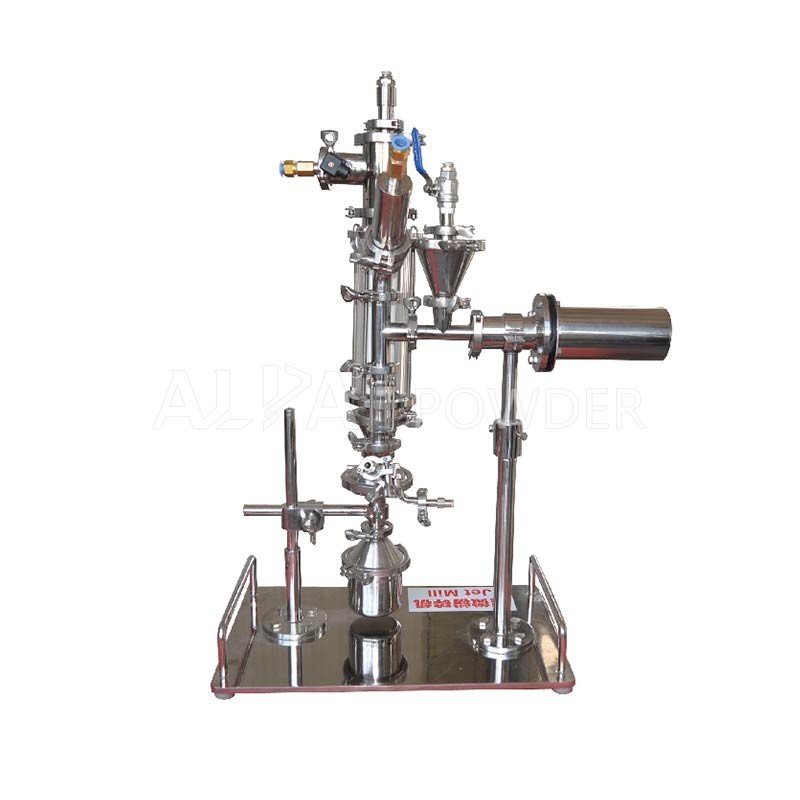 MQP01 Laboratory Jet Mill
Minimum output is 0.5g / batch
Processing capacity: 0.5g / batch
Available D50:2-15μm
Air consumption: 0.5m3/min
Power: 5.5KW
Equipment size: (length × width × height): 500 × 350 × 400 (mm)
No transmission parts, self-classifying structure
Good particle shape, narrow particle size distribution
Suitable for dry grinding of various materials with a Moh's hardness of 9 or less, especially suitable for grinding high hardness, high purity and high value-added materials.
Constant temperature or low temperature medium-free grinding is especially suitable for materials of heat sensitive, low melting point, sugary, volatile nature.
No dead angle, no material storage risk, easy to achieve explosion-proof verification, no safety hazards, cleaning is extremely simple, easy to disassemble and replace parts
Key components can be selected with all-ceramic structure and non-metal contamination;
Grinding is completed in closed system, little dust, low noise in a clean and environmentally friendly process.
PLC control system, easy operation.
Aluminum oxide ceramic is available for inner liner.
Optional explosion-proof design, can also be upgraded to a nitrogen circulation system to meet the ultra-fine grinding processing requirements of flammable and explosive oxide materials
CUM180 Universal impact mill
Available 40~120 mesh.
Grinding disc: Φ180mm
Motor power: 1.5kW, 220V
Processing capacity: 500g~5000g/h
Dimensions: (length X width X height) 820X650X930mm
Self-contained screen, aperture 0.2mm-3mm
Compact structure, small footprint, easy to disassemble and clean
Wide range of applications and cost-effective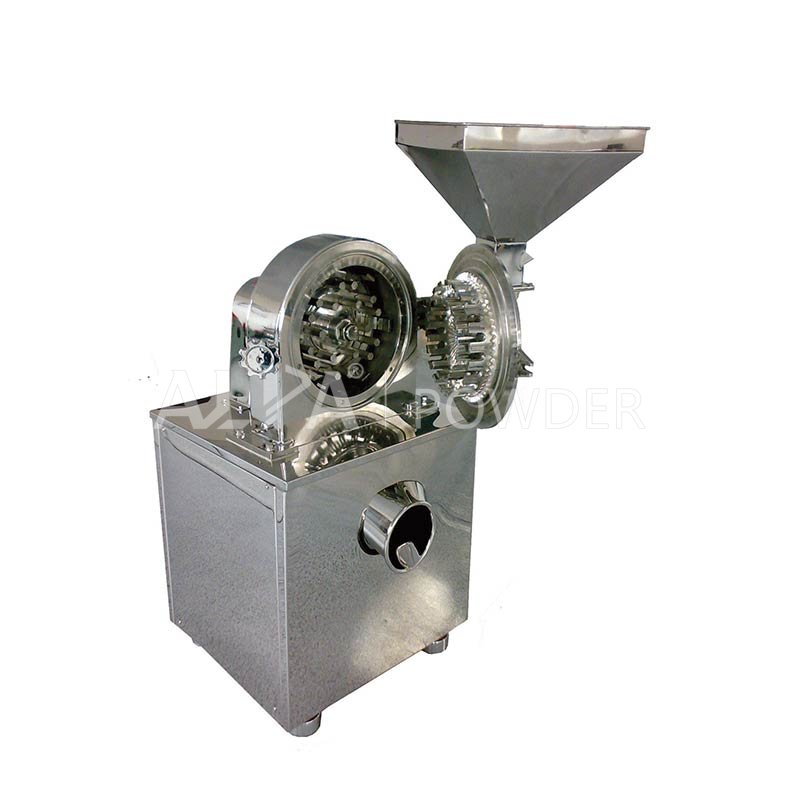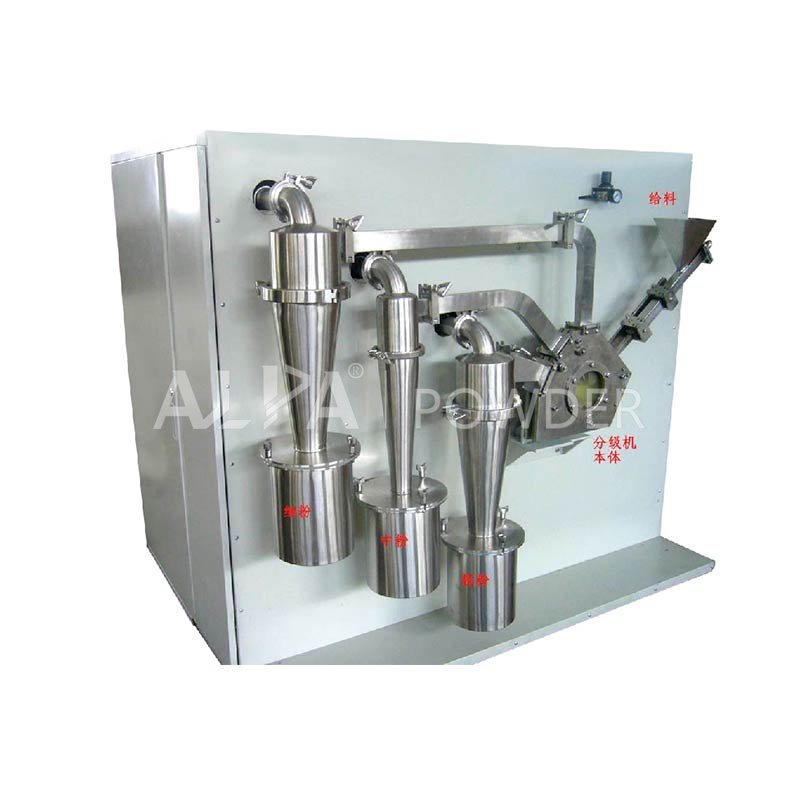 FS05 Inertia Classifier
Coarse, medium and fine products can be obtained at the same time.
Particularly suitable for the products with the requirement of narrow particle size distribution.
Compared with wheel type classifier, it is more suitable for classifying the raw material with poor fluidity and irregular shape.
Very precise coarse particle culling
High precision for ultrafine powder
Adopting the principle of COANDA physics
Simple construction, no rotating parts, low operating costs (no rotating parts, no motor )
Grinding is completed in closed system, little dust, low noise in a clean and environmentally friendly process.
PLC control system, easy operation.
Explosion-proof design can be selected to meet the requirements of ultra-fine grinding processing of flammable and explosive oxide materials;
High-temperature, low-temperature and normal temperature design, air-tight cycle, inert gas circulation, to meet the grinding temperature requirements of different materials
Suitable for: copiers, laser printer toners, cerium oxide, aluminum oxide, aluminum hydroxide, metal powder, etc.
MZ03 Vibratory Mill
Raw material filling capacity is 1L, fully closed working state.
Motor power: 0.37kW, 220V
Available 100~1250 mesh.
Grinding cylinder volume 3L
Processing capacity 500g ~ 1000g / h
Dimensions (length X width X height): 600X350X400mm
Suitable for micron-scale pulverization of various soft and hard materials with a Mohs hardness of 9 or less.
Product particle size can be changed by adjusting parameters such as grinding grading, amplitude, frequency, etc.
Grinding medium and lining plate can be made of special materials such as high manganese steel, high chrome steel, stainless steel, alumina, zirconia, quartz, etc., which is resistant to abrasion and less pollution
Key components can be selected with all-ceramic structure, non-metal contamination
Air spring or rubber spring instead of hard spring, long service life, good shock absorption and low noise
Compact structure, small footprint, easy to disassemble and clean
Low installed power, wide application range and high cost performance
PLC control system, easy operation.
For heat sensitive and low melting materials, it can be crushed by water cooling or strong cooling.
Explosion-proof design can be selected to meet the requirements of ultra-fine grinding processing of flammable, explosive and easy oxide materials.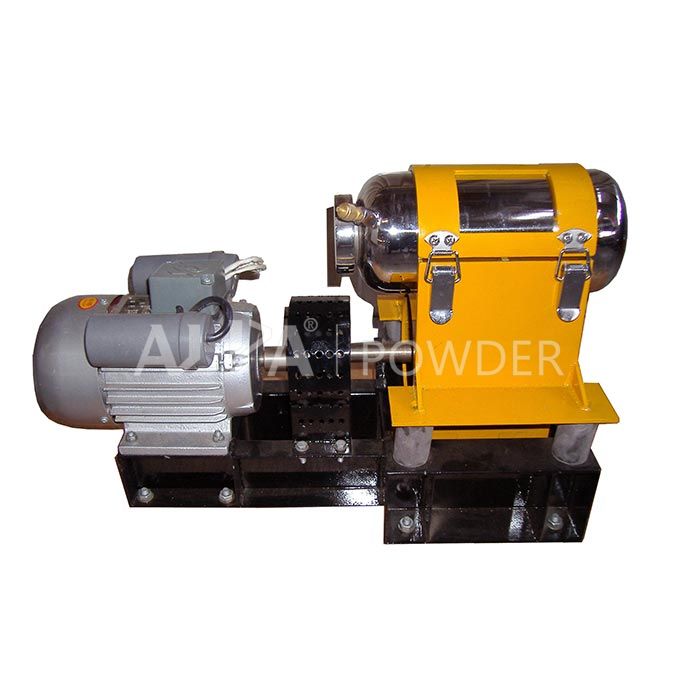 "

I don't know how to choose the best for me."
IT DOESN'T MATTER
LET US HELP YOU!
The raw material and the particle size, output, and application industry of the finished product determine the choice of equipment and process. As an expert, you will not be unfamiliar with this.If you have any questions, don't worry, please leave us a message, or "Live Chat" in the lower corner of this page, or contact us via our phone or email.
ANY QUESTIONS OR DEMANDS
PLEASE CONTACT US RIGHT NOW!
Learn More & Get Quotation
Please tell us your needs.
Our engineer will send you solutions and quotes for free.