GLOBAL STRATEGY
In the intense competitive international market, ALPA aims to build a global strategy, actively promote technology and management innovation, optimize overseas business models, and foster a high-quality, compound talent team that adapt to global market changes and overseas business development. Participate in the cooperation and competition of the global market in a wider scope, in a wider field and at a higher level, continuously enhance the international competitiveness of enterprises, and realize the enterprises development.
Marketing network
In the steady global strategy, ALPA has expanded its marketing network to more than 100 countries and regions,and have won wide acclaim in the markets such as Germany, France, Italy, Switzerland, United States, Canada, Brazil, Turkey, Russia, Pakistan, Kazakhstan, Egypt ,Saudi Arabia, India, Thailand, Vietnam, Malaysia, Indonesia, South Africa, Kuwait, and Australia,etc.
Overseas unified service hotline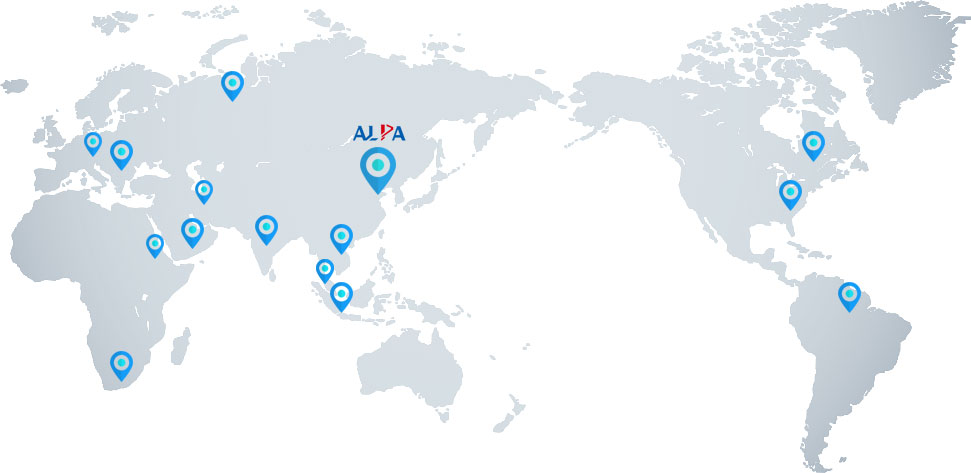 We adhere to the customer-centric, to create the S530 customer service system of full-service, full-process and all-weather . In Germany, South Korea, India, Brazil, Malaysia, Vietnam and other countries, providing customers with convenient localization services ,which has won the continuous support of overseas customers.
Win-win with customers
ALPA actively seeks win-win cooperation. It has established close cooperative relations with internationally renowned powder technology service providers such as German IVA Company and German PALLMANN Company. The products have served Shell Oil, Sinopec, Hon Hai Precision Industry, BYD, Bosch Group, Johnson & Johnson, China Minmetals Corporation, Zhengwei International, Unilever, Bayer Group, China Pharmaceutical Group and other domestic and international well-known enterprises,and have played a positive role in major projects undertaken and participated by customers around the world.
Win-win with agents
The global economy is developing rapidly, the requirements for advanced materials are getting higher and higher, and the demand for ultrafine grinding technology and related equipment is increasing. ALPA wants to invite excellent distributors with a keen market sense to jointly develop and serve the global customers, using the "ALPA" brand with credit upmost, excellent quality, warm service and good reputation at domestic and foreign to create a win-win cooperation model.
1
Strong brand communication advantage
2
Practical training and human support advantages
3
Superior product support advantages
4
Robust market control advantages
5
Professional logistics and service system advantages
6
Mature operating system advantage
Win-win with suppliers
We always believe that suppliers are as important as customers.
High-quality parts supply is an important part of our product quality and company brand. We will grow together with our partners to witness and share the company's glory and achievements.
Win-win with the environment
Based on the ethical responsibility, ALPA transcends the traditional concept of making profits as the sole goal, emphasizing the contribution to consumers, employees, partners and the environment and society, and is committed to environmental protection, energy conservation and emission reduction, and vigorously develops circular economy. To achieve sustainable development, build a harmonious business ecosystem, and demonstrate a strong sense of social responsibility.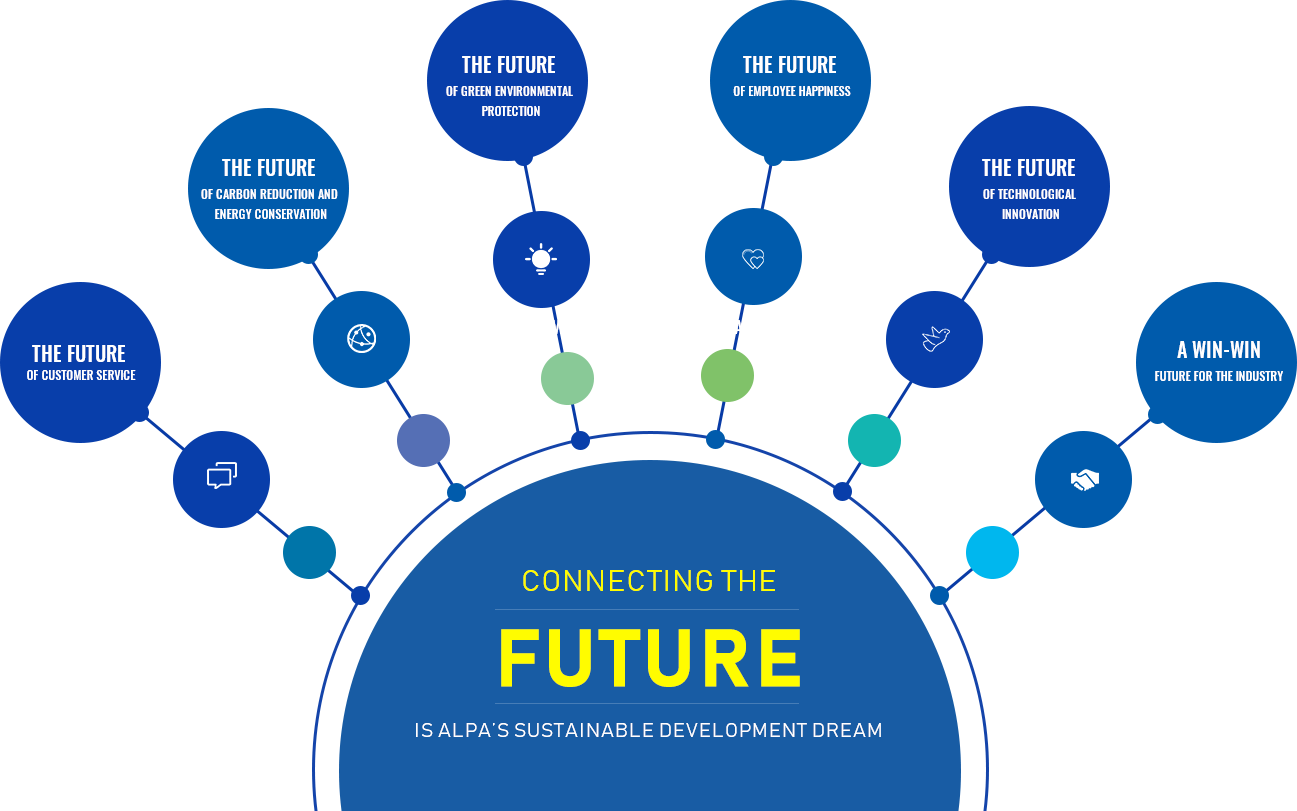 Witness the excitement,Look forward to the future
In the era of economic globalization, ALPA is committed to providing customers with excellent, mature technologies, high-quality products and excellent services, striving to realize customer value and benefits, and building a bright future with quality.
We are committed to exploring further and deeper,
in hopes of earning more lasting cheers!

Together with you, ALPA creates the future of advanced materials with powder technology!
ALPA BRINGS THE FUTURE FORWARD!