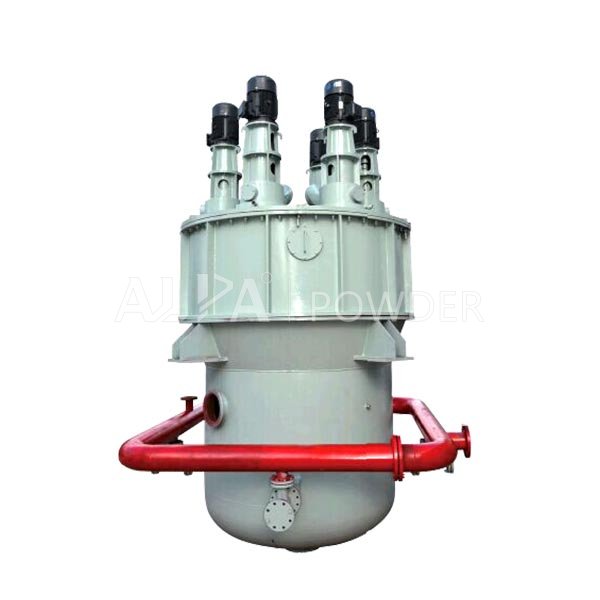 S-MQL Steam Jet Mill

Widely used in non-metallic minerals, chemical, industrial solid waste and other industries.
Available particle size D50:1-15μm
Nano particle size is available.
Steam of working pressure 8-40 bar and temperature 230℃-360℃,both drying effect
Higher speed of steam results in higher kinetic energy, strong grinding force, high-speed jet nozzle exit speed can reach 1020m / s, can produce finer powder
Stronger grinding ability and energy, easy to achieve finer powder.
Compared with conventional jet mill, higher energy efficiency, lower operating cost.
The grinding process is completed by the collision of the materials themselves., Fully self-grinding, So The device is durable and the purity of products is high in contrast.
High speed and low viscosity, can achieve higher grinding efficiency and classification accuracy, reduce over-grinding, and obtain narrower particle size distribution.
Good particle shape and high activity.
The classifying wheel separates the material automatically with airflow, no coarse particles.
Key parts like inner liner, classifying wheel and nozzle are made of ceramic such as aluminum oxide, zirconium oxide or silicon carbide, ensuring non-contact with metal throughout the grinding for high purity of the final product.
Single or multi-classifying wheel are installed horizontally.
Speed of wheel is controlled by converter, particle size can be adjusted freely.
Grinding is in closed system, low dust and noise, clean and environmentally friendly production process.
PLC control system, easy operation.
Can be used for ultra-fine processing of high viscosity products.
The motor can be connected with a belt to increase the speed and break through the problem of high-speed motors without the well-known motor brand.
Can be used in series with multi-stage classifiers to produce products with multiple sizes at one time.
Weighing control system, high precision, optional, high product stability.
Optional explosion-proof design, can also be upgraded to nitrogen circulation system to meet the ultra-fine grinding processing requirements of flammable and explosive oxide materials
S-MQL Steam Jet Mill
Working Principle
Steam Jet Mill(Steam kinetic energy mill) Upgraded by conventional jet mill, adopts unique high-temperature mechanical sealing technology, cooling technology, high-temperature steam as grinding kinetic energy medium, specially designed Laval nozzle drive high-speed collision and grinding of materials. The grinded material enters the forced vortex classification, the qualified materials enter the heat preservation collection system, and the coarse materials fall into the grinding zone to continue the grinding, the whole process is completed under the dry process.
S-MQL Steam Jet Mill
Technical Parameters
| Parameters(S-MQL/W) | Unit | 2000 | 3000 | 4000 | 6000 | 10000 | 15000 | 20000 |
| --- | --- | --- | --- | --- | --- | --- | --- | --- |
| Steam Volume | kg/h | 1000~2000 | 1500~3000 | 2000~4000 | 3000~6000 | 6000~10000 | 10000~15000 | 15000~20000 |
| Steam Pressure | bar | 5~40 | 5~40 | 5~40 | 5~40 | 5~40 | 5~40 | 5~40 |
| Temperature | ℃ | 260~360 | 260~360 | 260~360 | 260~360 | 260~360 | 260~360 | 260~360 |
| Output Capacity | kg/h | 400~1000 | 600~1500 | 800~2000 | 1200~3000 | 2000~5000 | 3000~8000 | 4000~10000 |
| Fineness | μm | 0.5~10 | 0.5~12 | 0.5~12 | 0.5~14 | 0.5~14 | 0.5~16 | 0.5~16 |
Note: The production capacity is closely related to the particle size, specific gravity, hardness, moisture and other indicators of the raw materials. The above is only for selection reference.
S-MQL Steam Jet Mill
Album

"

I don't know how to choose the best for me."
IT DOESN'T MATTER
LET US HELP YOU!
The raw material and the particle size, output, and application industry of the finished product determine the choice of equipment and process. As an expert, you will not be unfamiliar with this.If you have any questions, don't worry, please leave us a message, or "Live Chat" in the lower corner of this page, or contact us via our phone or email.
ANY QUESTIONS OR DEMANDS
PLEASE CONTACT US RIGHT NOW!
Learn More & Get Quotation
Please tell us your needs.
Our engineer will send you solutions and quotes for free.