RAW MATERIAL PROCESSING FOR CUSTOMERS
ALPA is a company dedicated to providing customers with all-sided and high-quality services. We have a world-class ultra-fine powder processing equipment and they can be widely used for various material ultra-fine powder processing for our customers . ALPA's test equipment is advanced and our service is all sided., our test room also provides the world-class analysis technology and quality assurance in addition to product development test and small batch processing.
01/

ALPA's advantages for raw material processing for clients
We follow the belief" don't feel trouble for small quantity, best quality and best price for you"to ensure every service is of the highest quality.
ALPA has a 4,000 square meter workshop for micro-powder processing in Weifang City, Shandong Province,. Various types of powder grinders and air classifiers are available to meet our clients' diverse and multi-grade processing requirements.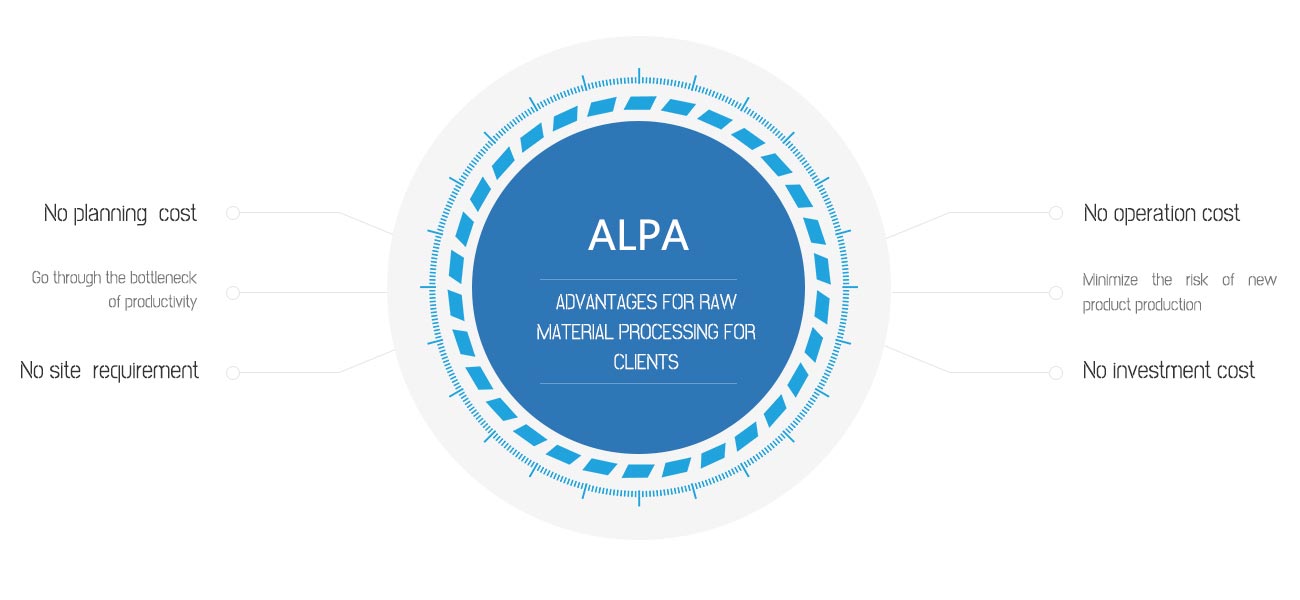 02/

ALPA's raw material processing services
Are you still worried about one-time high investment in raw material processing equipment? Are you still worried about investment risk of the project? Are you still looking for land and plant from time to time ? Are you still worried about the sharp increase of orders?
All your problems will be solved in ALPA company !
We accept raw material processing order from 500k to 1000tons.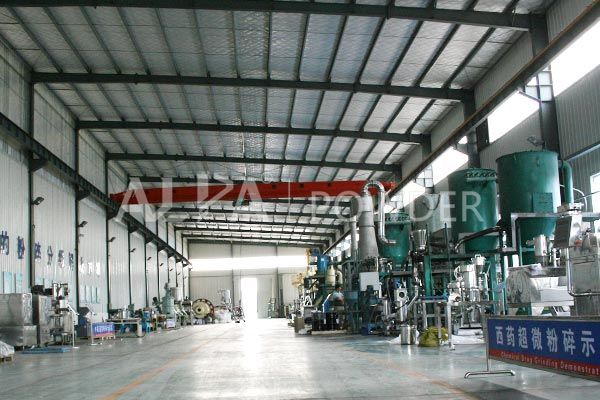 Clean production environment
 We have a clean production area for pharmaceutical, food, high valued metal and other material which has a strict requirement for processing environment and production process.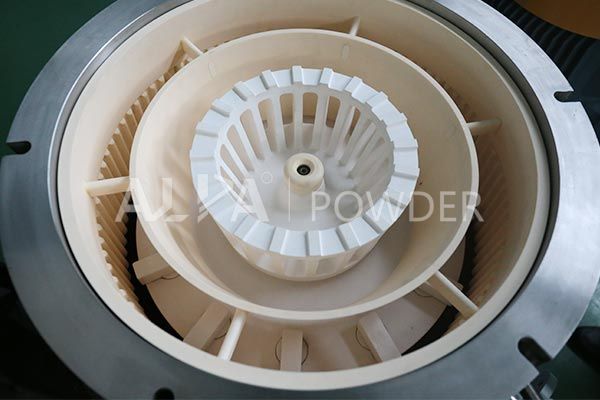 No metal pollution in the whole process
For electronic material, battery material, photovoltaic materials and other material with high requirements for no metal impurities, our equipment can achieve no metal contamination during the whole process.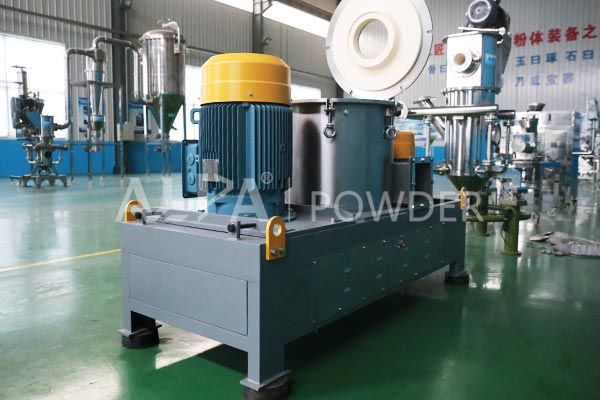 Multiple processing methods
For tenacity material, viscous material and heat sensitive material, our different kinds of processing methods can meet your requirements.
03/

Raw Material Processing Equipment
We have the international first-class ultra-fine powder processing equipment for various kinds of raw material
2018-12-27T14:00:59+08:00
More fineness
With Classifying Rotor, easy to adjust
Large capacity, Up to 57T/H
Wide range of applications
Single Rotor / Multiple Rotor
325-10000 mesh (45 μm-1 μm)
2018-12-27T13:59:23+08:00
High purity
Ceramicized, no pollution
No classifier Rotor, easy to clean
Can meet GMP and FDA requirements
Applicable: chemical, pharmaceutical, food
100-6000 mesh (150μm-2μm)
2018-12-18T15:55:11+08:00
Single Rotor/Multiple Rotor
100-6000 mesh (150μm-2μm)
2018-12-18T15:56:11+08:00
Single Rotor / Multiple Rotor
325-8000 mesh (45μm-1.5μm)
2019-12-17T09:18:44+08:00
2019-01-28T14:33:45+08:00
2019-01-28T14:34:04+08:00
100-2500 mesh (150μm-5μm)
2019-01-28T14:34:16+08:00
2019-01-28T14:35:39+08:00
60-10000 mesh (250μm-1μm)
2018-12-18T16:26:11+08:00
325-10000 mesh (45μm-1μm)
2019-03-01T11:15:43+08:00
The world's leading process line / mature technology / green / low energy consumption.
2018-12-18T16:30:06+08:00
The most used coating process by the world's mineral magnate/ the minimum dosage of modifier / the best coating effect.
04/

Analyzing Instrument and Devices
ALPA's analyzing room is provided with imported Malvern Laser particle size analyzer , standard sieve and analytical equality device etc. for analyzing the powder particle size at any time and at any place so as to ensure the product particle size can meet the client's requirement and ensure consistency of the particle size in the production process.
05/

Raw Material Processing for Client
Whatever you let us process your any raw material, we shall give you our best ultra-fine powder processing solution for you.
Hard minerals: quartz, siltstone, fused quartz, cristobalite, quartzite, vein quartz, quartz sand, wollastonite, feldspar (sodium, potassium), sepiolite, andesite plagioclase, nepheline syenite, garnet, plagioclase, Illite.
Soft mineral: calcium carbonate (calcite): calcite, limestone, marble, chalk.
Kaolin: calcined kaolin, coal-series kaolin, washed kaolin, barite, talc (white, black), mica (natural, synthetic), bentonite, andalusite, brucite, montmorillonite, graphite, diatomite, bauxite, petroleum coke, coal powder, magnesite, perlite, attapulgite, spinel, tourmaline, etc. Maifanshi, monazite, pyrophyllite, dolomite, rectorite, diopside, diabase, xiuyan, cyanine, vermiculite, mullite, clay, clay, etc.
Cathode materials: lithium cobalt oxide (LCO), lithium manganate (LMO), lithium nickel cobalt manganate (NCM), lithium nickel cobalt aluminate (NCA), single crystal ternary, small particle lithium cobalt oxide, lithium iron phosphate (LFP)
Cathode raw materials: cobalt oxide, lithium carbonate, lithium hydroxide, lithium hydroxide monohydrate, manganese dioxide, ferrous oxalate
Negative electrode materials: spherical graphite, artificial graphite, coke powder, carbon microsphere, pitch coke and silicon carbon material
Pharmaceutical material and food
Chinese and Western medicines: urotropine, ibuprofen, theophylline, cilostazole, vitamin C, black cohosh, carbamazepine, wine tank, nimodipine, turtle powder, fenofibrate, acyclovir, albendazole, nimodipine, ciacol, meloxicam, fenofibrate, amoxicillin, aprovir, albendazole, sulphanidine Hydrocortisone, oxytetracycline, indomethacin, formic acid, pulmicone, flumequine, propafenone, propylsulfur, hydroxylcellulose, praziquantel, pyrimidine, progesterone, kanamycin monosulfate, imiquimod, paracetamol, sultacillin, levofloxacin, levopropylline, Econazole nitrate, progesterone Chlortetracycline Hydrochloride, Cu Ann Ned, etc.
Food:  Calcium, Barley, Coral Powder, Bone Powder, Egg Peel, Konjac, Starch, Cellulose, Haematococcus, Sea Cucumber, Ant Powder, Peanut Shell, Dehydrated Vegetables, Wheat Flour, Malt, Calcium Citrate/Potassium, Carrageenan, Soybean Powder, Coffee Bean, Mannite, Particle Gum, Sodium Alginate, Rape Pollen, Garlic Flake, etc. Salt, walnut shell, mint, soybean residue, wheat bran, blood residue, hawthorn powder, shell, fruit powder, xylitol, sorbitol, tomato powder, potato balls, cassava, cakes, coenzyme Q10, ultrafine mica, rose pollen, placenta element, Pearl powder, cocoa powder, cocoa shell, legumes, lactose, biscuits, glucose, fennel Oatshell, pepper powder, oyster shell, onion, peanut shell, rice powder, shrimp skin, spinach, melon seeds, seaweed, etc.
Pesticides: herbicides, fungicides, insecticides, wettable powder, fungicides, chlorothalonil, bensulfuron-methyl TC, imidacloprid, acetamiprid, carbendazole, clotrimazole, thiabendazole, etc.
Alumina, aluminum hydroxide, magnesium oxide, magnesium hydroxide, zinc oxide, precipitated barium sulfate, flame retardant, cellulose, calcium phosphate, light calcium carbonate, calcium hydrogen phosphate, light calcium oxide, yttrium oxide, foaming agent, silica, silica gel, xanthan gum, guar gum, soap powder, strontium carbonate, low glass powder Zeolite 4A, aluminum silicate, aluminum silicate, silicate, catalyst, polytetrafluoroethylene, polyethylene powder, PVC, PE, epoxy resin, phenolic resin, petroleum resin, carbonized resin, polytetrafluoroethylene resin, polyethylene wax, polyvinyl alcohol, nylon, molybdenum disulfide, industrial vulcanizing agent, vulcanizing accelerator, rubber Curing agents, activated carbon, zinc stearate, polyether ether ketone, sodium stearate, polypropylamide, copper oxalate, diammonium oxalate, bisphenol A, plastic additives, rubber, rubber additives, ammonia rubber coatings, xanthan gum, sulfur, coke, alkali foam, boric acid, titanium dioxide, tantalum bisphosphate, MP, organic anhydride, dodecyl hydroxide Basic stearic acid, sodium bicarbonate, isohydric acid ester, polyacrylic acid salt, methyl cellulose ether, ammonium polyphosphate, ferrate, brominated diphenyl ethers, zirconium glycinate, guanidine nitrate, ABS, casein, cellulose, natural or man-made fiber, foam rubber, phenolic resin, polycarbonate, polyester, polypropylene, polyvinyl acetate resin, Stearate, styrene, Teflon, thermosetting plastics, water and aluminum chloride, petroleum carbon, UHMWPE, PE wax, silica, activated carbon, fine phosphate flame retardant materials, printing toner, etc.
Fly ash, slag, steel slag, tailings, lean ore, cement and so on.
Nanometer titanium oxide, nanometer ceramic material, nanometer tourmaline, nanometer diatomite, nanometer calcium carbonate, nanometer silica, super long afterglow phosphor, calcium halide phosphate phosphor, tricyanine phosphor, glass bead reflective powder, electroluminescent powder, super fine wood powder, super fine bamboo charcoal powder, etc.
Silicon carbide (black, green), boron carbide, diamond, white corundum, zircon sand, zirconia, rare earth polishing materials, tungsten carbide, silicon nitride, chromium carbide, chromium oxide, brown corundum, chromium corundum, grinding wheel, neodymium oxide, natural color sand, etc.
Ceramic building materials
Ultra-fine cement, water slag, cement additives, fly ash, asphalt ore, gypsum, slag, quicklime, silica fume, glass powder and so on.
Aluminum powder, copper powder, zinc powder, iron powder, tin powder, cobalt powder, nickel powder, tantalum powder, niobium powder, silver powder, stainless steel powder, copper-lead powder, copper-tin powder, copper-coated iron powder, molybdenum-iron powder, lead-tin alloy, copper-iron powder, iron-tungsten alloy, magnesium alloy, aluminum-magnesium alloy, copper oxide, tantalum carbide, carbonyl nickel powder, niobium oxide, yttrium oxide, metal Silicon, ferrosilicon, sponge iron and so on.
Fluorescent pigments, ferric oxide red (green, yellow, black), chromium oxide red (green, yellow), phthalocyanine, cobalt blue, zinc oxide, zinc barium white, benzidine orange, toluidine red, silver vermilion, mica titanium pearlescent pigments, acid dyes, basic dyes, neutral dyes, vegetable dyes, fluorescent whiteners, waxes, spotted clay, viscose Soil, electronic waste, fir bark, ancient powder, Eurasian hay fiber, milk minerals, coal moss, garbage, soap, wax, wood, etc.