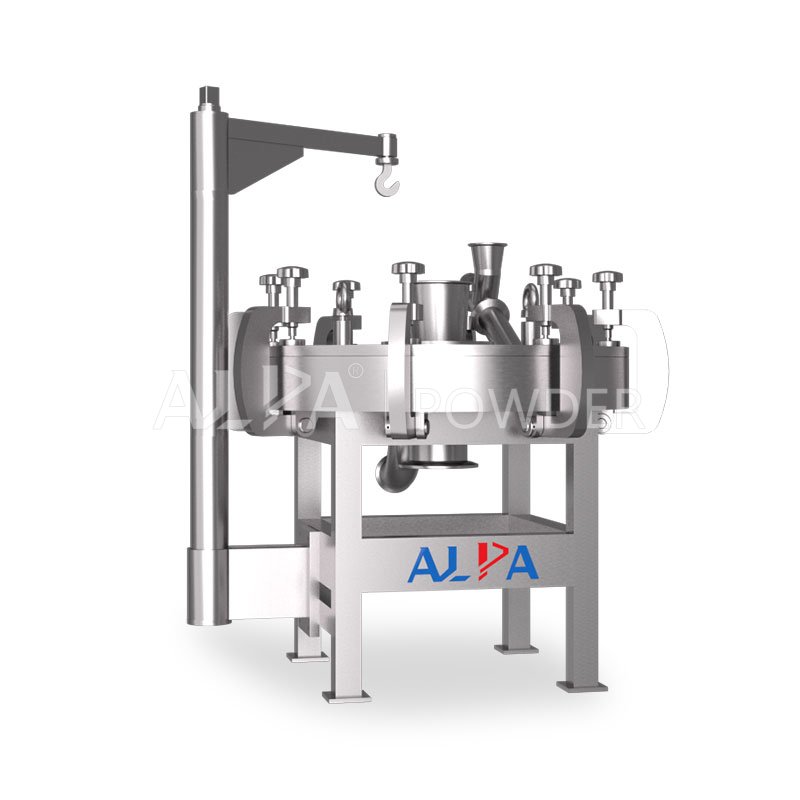 MQP Pharmaceutical Special Spiral Jet Mill

widely used in the pharmaceutical industry Urotropine, ibuprofen, theophylline, cilostazol, vitamin C, black cohosh, carbamazepine, vinasse, nimodipine, Turtle powder, fenofibine, acyclovir, albendazole, nimodipine, chlorhexidine, meloxicam, fenofibrate, amoxicillin, aprovir, albendazole, salbutamol, hydrogenation Pine, oxytetracycline, indomethacin, mefenamic acid, primidone, flumethacin, heart rhythm, prednisone, prothionate, hydroxycellulose, praziquantel, pyrantel, progesterone, monosulphate Kanamycin, imiquimod, paracetamol, sultamicillin, levofloxacin, levopropionine, econazole nitrate, chlortetracycline hydrochloride, triamcinolone acetonide and other raw materials.
Available particle size D50:1.5-45μm
No dead angle, easy disassembling and cleaning.
Free of transmission parts, self-classifying structure.
Good particle shape, narrow particle size distribution
CIP/SIP design is optional.
Meet GMP/FDA requirements.
Constant temperature or low temperature, medium-free grinding,especially suitable for materials of heat sensitive, low melting point, sugary, volatile nature.
The grinding process is completed by the collision of the materials themselves., Fully self-grinding, So The device is durable and the purity of products is high in contrast.
Key parts like inner liner, classifying wheel and nozzle are made of ceramic such as aluminum oxide, zirconium oxide or silicon carbide, ensuring non-contact with metal throughout the grinding for high purity of the final product.
No residual material, achieve explosion-proof design, no safety hazards, cleaning is very simple, easy to disassemble and replace parts.
Grinding is in closed system, low dust and noise, clean and environmentally friendly production process.
PLC control system, easy operation.
Optional explosion-proof design, can also be upgraded to nitrogen circulation system to meet the ultra-fine grinding processing requirements of flammable and explosive oxide materials
MQP Pharmaceutical Special Spiral Jet Mill
Working Principle
Pharmaceutical jet mill(Medical jet mill,Pharmacia jet mill,pharmacy jet mill) works with cyclone separator, dust collector and suction fan to form a complete grinding system. Compressed air flow after filtration and drying would go into milling chamber from nozzles, and meet in the center area, where material would be impacted and ground and sheared. Milled powder would go up to the classifying chamber by the air flow from suction fan. The high-speed rotation of classifier wheel would create a strong centrifugal force to separate coarse powder and fine powder. Qualified fine powder would go through the wheel vane then into the cyclone separator or dust collector, while mixture of coarse powder and fine powder would fall down to the milling chamber to be milled again.
MQP Pharmaceutical Special Spiral Jet Mill
Technical Parameters
| Parameters/specifications | MQP03 | MQP06 | MQP10 | MQP20 | MQP40 | MQP60 | MQP80 |
| --- | --- | --- | --- | --- | --- | --- | --- |
| Feed Size(mm) | <5 | <5 | <5 | <5 | <5 | <5 | <5 |
| Product Size(d97:um) | 8~150 | 8~150 | 8~150 | 8~150 | 10~150 | 10~150 | 10~150 |
| Production Capacity(kg/h) | 5~100 | 10~200 | 20~400 | 50~800 | 150~1500 | 300~2000 | 400~6000 |
| Air consumption(m3/min) | 3 | 6 | 10 | 20 | 40 | 60 | 80 |
| Air Pressure(Mpa) | 0.7~0.85 | 0.7~0.85 | 0.7~0.85 | 0.7~0.85 | 0.7~0.85 | 0.7~0.85 | 0.7~0.85 |
| Installed Power(kw) | 26~37 | 47~68 | 68~106 | 145~184 | 276~310 | 402~427 | 520~600 |
Note: The production capacity is closely related to the particle size, specific gravity, hardness, moisture and other indicators of the raw materials. The above is only for selection reference.
MQP Pharmaceutical Special Spiral Jet Mill
Album

"

I don't know how to choose the best for me."
IT DOESN'T MATTER
LET US HELP YOU!
The raw material and the particle size, output, and application industry of the finished product determine the choice of equipment and process. As an expert, you will not be unfamiliar with this.If you have any questions, don't worry, please leave us a message, or "Live Chat" in the lower corner of this page, or contact us via our phone or email.
ANY QUESTIONS OR DEMANDS
PLEASE CONTACT US RIGHT NOW!
Learn More & Get Quotation
Please tell us your needs.
Our engineer will send you solutions and quotes for free.